Tutti i modi per tradurre " ascoltare" in inglese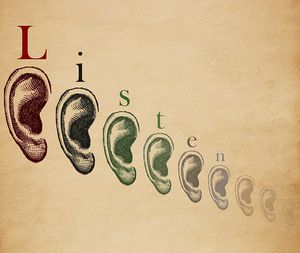 1 to listen to (s.o., sthg.): ascoltami!, listen to me!; ascoltatemi fino in fondo, hear me out; ascoltare la radio, to listen to the radio; ascoltare cantare gli uccelli, to listen to the birds singing; ascoltare con tutte e due le orecchie, to listen closely; ascoltare da un solo orecchio, to be only half listening ( o to pay little attention) // ( inform.) ascoltare clandestinamente, to tap

2 ( dar retta a) to pay* attention to (s.o., sthg.), to listen to (s.o., sthg.): non ascolta nessuno, he doesn't listen to anyone; non avete voluto ascoltarmi, you would not listen to me; se mi avessero ascoltato!, if only they had listened ( opaid attention) to me!; ascoltare il consiglio di qlcu., to take s.o.'s advice

3 ( med.) to auscultate

4 ( assistere a) to attend: ascoltare le lezioni, to attend classes; ascoltare la Messa, to hear ( o to attend) Mass

5 ( esaudire) to hear*, to grant ¨ v.intr.

1 ( origliare) to eavesdrop

2 ( prestare ascolto) to lend* an ear.
http://www.sapere.it/sapere/dizionari/traduzioni/Italiano-Inglese/A/AS/ascolt%C3%A0re.html?q_search=ascoltare